ROCI BERLIN research guide
This guide provides links to digitized or online materials related specifically to ROCI BERLIN.  Materials provided in this guide are for reference and research purposes only. For reproduction requests, email the archives.
Overview 
In the spring of 1989, Rauschenberg canceled plans for a ROCI BERLIN project due to his frustration with East German officials who were resistant to a simultaneous East and West Berlin installation that all Germans could visit. With the opening of the Berlin Wall in November, plans for the exhibition were reinstated. Rauschenberg traveled to the city to gather materials for the project, using them to create a series of silkscreen paintings on plywood. ROCI BERLIN opened at the Neue Berliner Galerie of the Altes Museum in March 1990.
Artwork
Part of the Rauschenberg Overseas Culture Interchange project, ROCI BERLIN, is a series of paintings with silkscreen on plywood that were made for the project shown at the Neue Berliner Gallerie im Alten Museum in Berlin in 1990. Although plans for ROCI BERLIN had been cancelled early in 1989 due to East German resistance to a simultaneous East and West Berlin installation, the project was reinstated in November 1989 with the opening of the Berlin Wall.
View select ROCI BERLIN artworks (RRF website) 
View artwork checklist (PDF)
Catalogue
Exhibition catalogue for the Rauschenberg Overseas Culture Interchange: ROCI BERLIN exhibition, held at Neue Berliner Galerie, Altes Museum, Berlin, March 10–April 1, 1990. Essay by Donald Saff, text by Heiner Müller, previously published essay by Robert Hughes, and previously published statement by Rauschenberg.
View catalogue (PDF)
Documentary Photographs
Documentary photographs including installation images, travel snapshots and other images related to Rauschenberg's trip and the ROCI BERLIN exhibition.
View select digitized documentary photographs (PDF)
Oral Histories
Oral history transcripts of individuals involved in ROCI.
See ROCI Research Guide (webpage)
Press
Press release and press clipping for ROCI BERLIN.
See ROCI Research Guide (webpage)
Rauschenberg's Photography
Contact and slide sheets for photographs taken by Rauschenberg during his travels in Berlin.
View black and white contact sheets (PDF)
View 35mm slide scans and slide pages (PDF)
Videos
Raw and edited footage of Rauschenberg's ROCI-related travels.
See ROCI Research Guide (webpage)
Other Materials (not digitized)
The majority of archival materials related to ROCI are not yet digitized and must be accessed onsite at the Foundation. Comprehensive information on these collections is found on the Archives Collections webpage. To find listings on related materials once on this page, scroll to the desired collection, download the finding aid PDF, and keyword search for "ROCI."
Below is a list of recommended collections to search. Email archives for help or questions.
Audiovisual Collection
Charles Yoder records related to the Rauschenberg Studio
Donald Saff records on Rauschenberg Overseas Culture Interchange (ROCI)
Photograph Collection
Robert Rauschenberg papers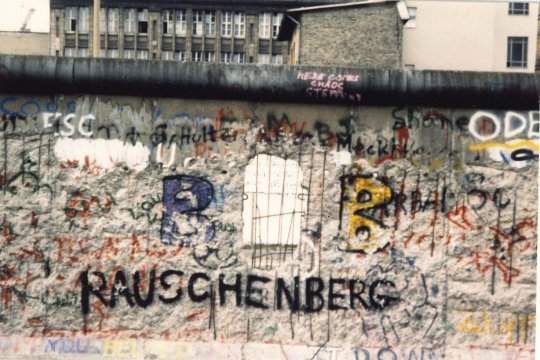 Berlin Wall, circa 1990. Photo: Axel Benzmann.