Island History
Captiva is a small barrier island off the west coast of Florida dividing the Pine Island Sound and the Gulf of Mexico. The west coast of Florida is a broad, flat plateau that slopes gradually for hundreds of miles into the Gulf, providing an ideal habitat for mollusks, crustaceans and fish. This abundant life attracted the first human inhabitants at least 6,000 years ago, and by 500 A.D. the society of the Calusa arose. The Calusa were sophisticated fishermen who constructed their homes on mounds composed of seashells and soil called middens, some of which still exist today.
The Spanish arrived in the early 1500s, including Ponce de Leon who coined a slave route to the Caloosahatchee River Passeo Cautivo (pass of the captive), giving Captiva its name. The Calusa were rapidly decimated by European-introduced diseases, militarism, slavery and displacement, and vanished from historical record by the end of the 18th century. Indigenous people (likely Seminoles), Europeans and Cubans lived intermittently on Captiva throughout the 1800s.
At the very end of the 19th century, the first homesteaders arrived to establish agricultural operations in the rich soil and temperate climate, but vulnerability to hurricanes made them too difficult to maintain. Captiva's undeveloped natural setting began to attract residents and visitors throughout the early 1900s, gaining visibility and accessibility after the Sanibel Causeway was completed in 1963.
Not longer after Rauschenberg moved to Captiva in 1970, building of homes and hotels picked up rapidly, compelling him to purchase adjacent properties to save them from development. Today Captiva is a high-end tourist destination and winter getaway primarily for retirees and families, with just under 400 year-round residents. The 20-acre Rauschenberg Residency property is a private retreat that recalls the Captiva that enchanted Rauschenberg when he first arrived.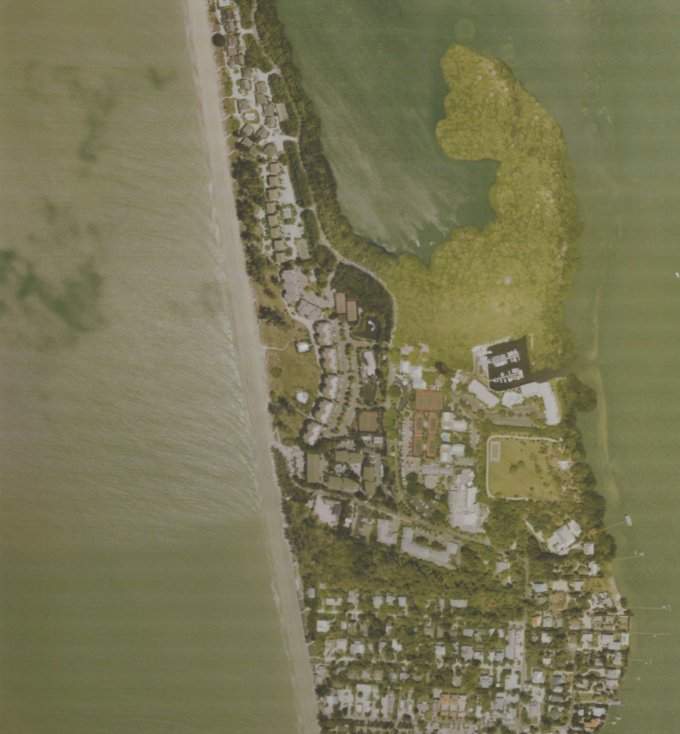 Aerial view of Captiva, 2002. Photo: Courtesy Lee County Property Appraiser's Office