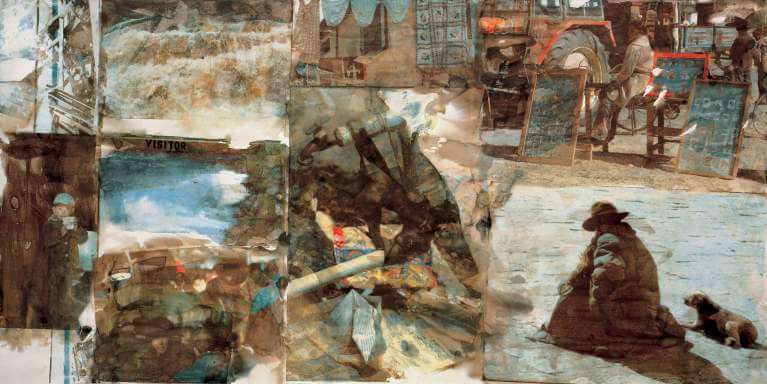 In his late work, Rauschenberg continued to approach his art with the spirit of invention and with the quest for new material and new technology that was characteristic of his work throughout his career. Beginning in 1992, Rauschenberg used an Iris printer to make digital color prints of his photographs. It is this technology that allowed for the high-resolution images and luminous hues in the large-scale works on paper, the Waterworks (1992–95) and Anagrams (1995–97). In 1996, he transferred the Iris prints to wet plaster in the Arcadian Retreats (a fresco series that provided him with an entirely new avenue of exploration) and onto polylaminate panels in his last three bodies of work, Short Stories (2000–2002), Scenarios (2002–06), and finally, Runts (2006–08).
Despite his use of new materials and methods, much of Rauschenberg's later work looks back at his earlier art and is autobiographical in nature. With the artist's retrospective exhibition organized by the Solomon R. Guggenheim Museum, New York, in 1997, which traveled to venues in the United States and Europe, the artist had the opportunity to view the full scope of what at that point had been a fifty-year career. During that same year, Rauschenberg worked in glass for the first time, creating sculptures of his iconic subjects: a tire, a pillow, a shovel, and a broom, each dignified by a silver platform. His monumental Mirthday Man (1997) from the Anagram (A Pun) series made on the occasion of his seventy-second birthday, includes a reproduction of the life-size X-ray of the artist first used in the print Booster (1967), while the imagery in the editioned Ruminations series (2000) refers to important moments and figures in the artist's early life.
Following a stroke in 2002 that leaves his right hand partially paralyzed, the artist continued to work, undeterred, but now with his left hand. During this final decade, he continued his collaborations with performers and printmakers and his commitment to humanitarian causes.