Hunter College, CUNY, Curatorial Practicum: Robert Rauschenberg, Fall 2018–Spring 2019
Night Shades and Phantoms: An Exhibition of Works by Robert Rauschenberg, Robert Rauschenberg Foundation, March 18–July 19, 2019
---
The Robert Rauschenberg Foundation collaborated with Hunter College, City University of New York, for an MA Curatorial Practicum course taught by Distinguished Professor Emily Braun. It resulted in Night Shades and Phantoms: An Exhibition of Works by Robert Rauschenberg, mounted in the spring of 2019 at the Foundation's headquarters. It was the first exhibition devoted exclusively to the two related metal paintings series, Night Shades and Phantoms (both 1991), and is accompanied by a digital catalogue, published here.
The Curatorial Practicum is a required course for the Advanced Certificate in Curatorial Studies, a specialization within the Hunter College MA degree in Art History. For this project, the students determined the criteria for developing the checklist, selecting from Night Shades and Phantoms in the Foundation's holdings. They conducted new research on both series in libraries and especially in the Foundation archives and identified the source imagery from Rauschenberg's own black and white photographs. The students also examined the artworks with conservators to understand the artist's materials and techniques. Working with staff from the Foundation, they designed the installation, learned the protocol for the handling and care of these works, and wrote the accompanying didactics. The curatorial team comprised Hunter College MA students Daniela Mayer, Chris Murtha, Lucy Riley, Joseph Shaikewitz, and Melissa Waldvogel. Each student wrote an essay for the catalogue on a specific research topic, which developed out of the classroom sessions on Rauschenberg's art and career and from specific readings, including those pertaining specifically to the artist's metal painting series.
Click below to download the digital catalogue:
Robert Rauschenberg: Night Shades and Phantoms, 1991
Published by Hunter College and Robert Rauschenberg Foundation, May 2020
Edited by Julia Blaut and Emily Braun
Essays by Daniela Mayer, Chris Murtha, Lucy Riley, Joseph Shaikewitz, and Melissa Waldvogel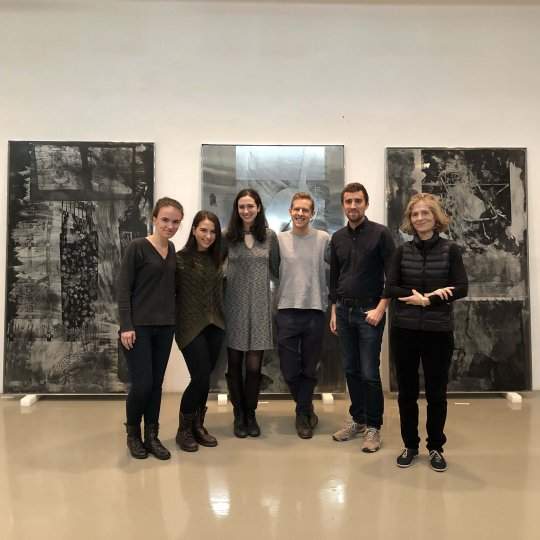 Melissa Waldvogel, Daniela Mayer, Lucy Riley, Joseph Shaikewitz, Chris Murtha, and  Emily Braun with Robert Rauschenberg's Manhole House, Neapolitan Excavation, and Avenue, all Night Shades from 1991.