Hunter College, CUNY, Research Methods: Robert Rauschenberg, Fall 2018
The Robert Rauschenberg Foundation collaborated with the MA Program in Art History at Hunter College, City University of New York, in conducting a Research Methods course taught by Emily Braun, Distinguished Professor. Each student produced comprehensive documentation and a detailed essay on an individual work by Rauschenberg in the Foundation's holdings.  
Research Methods is the foundational course in the Hunter program and provides training for academic and curatorial work by emphasizing the research skills (in primary and secondary sources) essential for the analysis of material and historical artefacts. Students also learn methods and theoretical frameworks for critical interpretation, which they apply to the writing of an expository essay. In the fall of 2018, the Robert Rauschenberg Foundation mounted an installation at their headquarters of artworks in need of scholarly research. They included objects in diverse media, from all stages of the artist's career. Seven Hunter College MA students each selected one of these art objects to study in depth. Following the model of catalogue raisonné entries, they provided full provenance as well as publication and exhibition history. As a group, they worked with a conservator to examine the materials and processes involved in the creation of each of the works, sharing potentially valuable observations. The seven interpretative essays, published here, place the objects in a broader art historical and cultural context (including their critical reception) and explicate issues of dating, title, condition, style, iconography, and related artworks.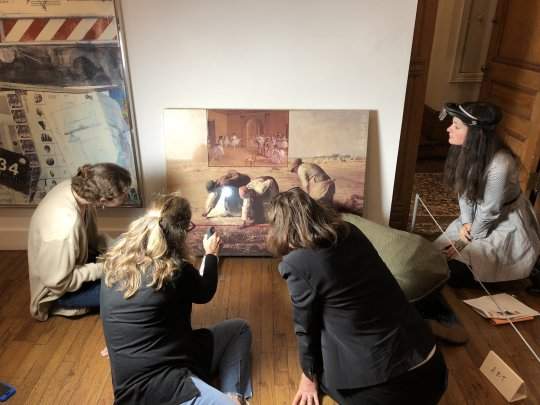 Hunter students, conservators, and Rauschenberg Foundation staff studying Untitled (Japanese Recreational Claywork), 1983.