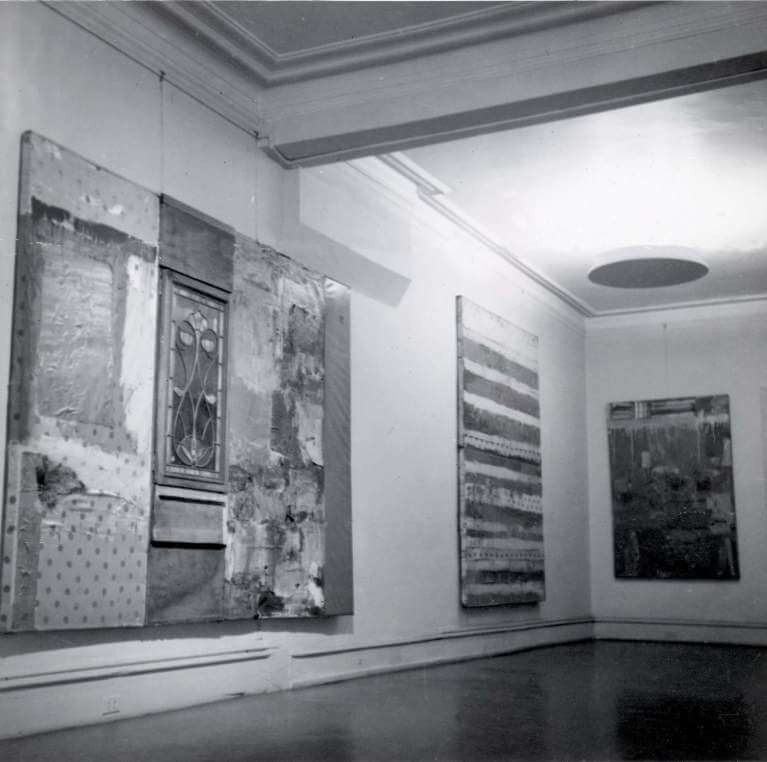 Expanding Career, 1954–69
For Rauschenberg there was a natural progression from the Red Paintings to the Combines, as two-dimensional collage and eventually three-dimensional objects came to the fore. By summer 1954, Rauschenberg had made the first, fully realized Combine, eliminating all distinctions between painting and sculpture. Expanding on Marcel Duchamp's concept of the readymade, Rauschenberg imbued new significance to such ordinary objects as a patchwork quilt or an automobile tire by combining unrelated items and incorporating them into the context of art. When Rauschenberg first exhibited the Red Paintings and Combines at the Egan Gallery, New York, in December 1954, critics were baffled by the works, which challenged existing definitions of art.
Less than a decade later, however, Rauschenberg's reputation as the leading artist of his generation was established following his first solo exhibition held in 1963 at the Jewish Museum, New York, and his award the following year of the International Grand Prize in Painting at the Venice Biennale. Of the works by Rauschenberg shown at the U.S. Pavilion were many of his now-celebrated Combines, including Bed (1955), as well as several paintings from a series the artist began in fall 1962, in which he used commercially produced silkscreens based on media sources and his own photographs. 
Rauschenberg's use of a commercial means of reproduction and his focus on media subjects in this series led art critics to identify him with the Pop art movement that had recently emerged on the New York art scene in 1962. In comparison with the often coolly executed paintings of the Pop artists, however, Rauschenberg's works are emphatically gestural and handmade. The silkscreen paintings have an expressive quality that results from their hand-painted areas, the collage-like overlays of photographic images, and the intentional slippage and irregularities, which the artist allowed to remain uncorrected during the screening process.